Eat your AM meal like a tycoon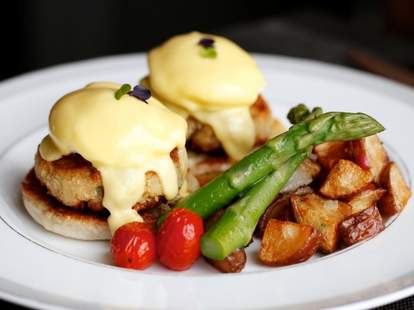 If your idea of a power breakfast is listening to Ice-T's 1988 album while knocking the stuffin' off an Egg McMuffin, it's time to grow up and get over to Astor Court, a homey new eat/meet spot serving upscale early-meals amongst stately European cloth seats, polished wood tables, and silk drapes, all with a hot view of the St. Regis' main lobby chandelier.
Southern options include shrimp & jalapeno jack grits, and chicken & waffles w/ truffle honey, while there's also a "Manhattan Scramble" (eggs/ smoked salmon/ roasted asparagus/ oven-dried tomatoes), and caramelized Bananas Foster pancakes w/ dark rum syrup, to which you can add sage-spiced country sausage or an apple & chicken link, who was that way until he got the Hylian Shield.
Spike things up with Bloodys such as The Great Wall and the shrimp-filled Capitol Mary, or settle on the gin-instead-of-vodka Red Snapper, which was invented post-Prohibition at the St. Regis NYC and given a name the hotel-owning Astor family felt was less gory than Bloody Mary, mainly because they didn't check Urban Dictionary.
Their bakery's got chocolate croissants and cinnamon raisin NY bagels, and they're even crazy nice enough to stock healthy stuff like steel-cut oatmeal w/ mixed berry & spiced peach compote, and housemade apple/ ginger/ lemon/ celery/ cucumber "Power Juice" -- also what helped Ice-T go from gangsta rap to TV, although now he's totally into kinda-hot Coco.