If you've ever visited Athens, and were like, "why the hell is everyone wearing togas and eating gyros", then you definitely drove too far, and missed wildly popular "quick-serve" Southwestern cantina Barberitos, which has finally found a home in Buckhead: a 64-seater with cabana-style stained wood booths, and a wrought-iron-fenced, 24-seat patio that shields you from the sun with Coke umbrellas. While the service is quicker than that dude named Tillis who Mike Tyson beat the crap out of, everything's still made-to-order and fresh as can be, meaning no freezers and farmer's market ingredients in spinach, wheat, or chipotle tortilla'd burritos (with chips & unlimited salsa!) loaded with char-grilled steak, spicy chicken, or ground turkey, and then all the things that make ground turkey burritos unhealthy. If a burrito ran over your dog, you can grab nachos, meat & bean quesadillas, and jerk tilapia tacos on Fridays only, and they're more than happy to set your party up with a taco/ fajita/ nacho bar, something the owners of Athens watering holes have had to remind you of while passing out in their restrooms.
Recommended Video
Potato Skin-Breaded Queso Balls Will Make All Other Apps Obsolete
Previous Venue
Next Venue
Venue Description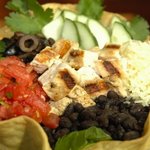 1. Barberitos
2900 Peachtree Rd NW, Ste 103, Atlanta, GA 30305
Burrito and taco choices abound at this fresh Southwestern cantina. Get your favorites like rice, beans, meat, and cheese rolled up in a burrito, or try their lighter fare menu with eats like mini veggie burritos and guacamole salad.