The <em>Top Chef</em> winner gets seriously frank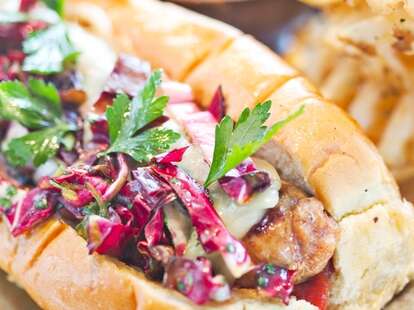 It's important to remember the simple things after you've achieved fame and fortune, or at least pay someone to remember them, then fire them later when you find out they're illegal. Remembering hot dogs, thank God: Richard Blais, with HD1, opening Thursday.
HD1 is the Top Chef All-Stars winner's new home of fashionably delicious franks, which you can attack in a metallic/earth-toned space with wooden communal tables, or on the beer-garden-y rooftop bar, all designed to give it a feel that's "garage band grunge meets California cool", because what's cooler than making heavy guitar music right on your Mac?
House-ground tubesteaks're wrapped in fresh-baked buns, and include Merguez lamb w/ red currant compote & minted cucumber salad, and fennel w/ grilled radicchio/fontina/San Marzano ketchup, plus build-it-yourself classic beef dogs and the Kenturkey, which you can top with housemade condiments like pepper jack foam and beer mustard, also what Miss Peacock demanded of the Colonel before she killed him with the lead pipe in the Salon, for giving him a Red Dog.
You can also give your dog some company like waffle fries with mae-ploy sauce, or a bowl of brisket chili w/ cool ranch oyster crackers, then end things sweetly with hand-churned soft serve like bourbon & brown sugar, which explains exactly why D'Angelo is so fat these days.
Every day there'll be three unique special plates, and the full bar will be putting out rum/craft bourbon cocktails, and carrying a collection of canned beers they call "kitschy", which is a word whose definition you needn't remember anymore, because Consuela apparently got a 760 on her verbal.