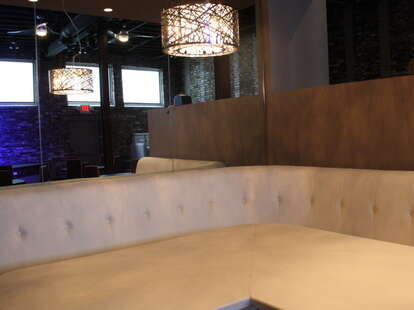 Four out of five doctors may recommend Bayer, but three of them own Metro Fuxon, an MD-funded fine-diner opening Monday with dual zones to attack their world-spanning cuisine: a back room with imported white leather booths/ banquettes and a small stage for jazz/ blues/ R&B, plus an ovular granite bar ringed by 3D TVs, white linen-covered tables, and a fish tank, or what Trey Anastasio did when told bettors had tons of money riding against them, until realizing none of that was true and he was just really high.
Three chefs each specialize in either Jamaican, Latin, or Nigerian eats, making for apps like African adobo-rubbed baby lamb w/ Tamarindo BBQ sauce; tropical ceviche w/ shrimp, lobster & grouper; and shrimp w/ pineapple salsa on a skewer covered in sugar cane...sweet!
From there, attack Puerto Rican paella w/ seafood rice, honey-glazed Chilean sea bass, and braised lamb shank pappardelle, or nab Caribbean dishes such as brown stew fish, Montego Bay chicken linguine, and a variety of proteins (pork, chicken, salmon, ribs) seasoned with jerk, whose special purpose is to make you satisfied, instead of Bernadette Peters.
To take the edge off, then quickly put it back on, they've got a full bar with specialty cocktails, international wines, and Jamaican beers, plus desserts like white chocolate bread pudding, guava cheesecake, tropical fruit coconut flan, and a chocolate-sauced "Surprise" cake, which that fifth of five doctors earned, when he came out of nowhere with "Nuprin".