Something healthier in the heart of GA Tech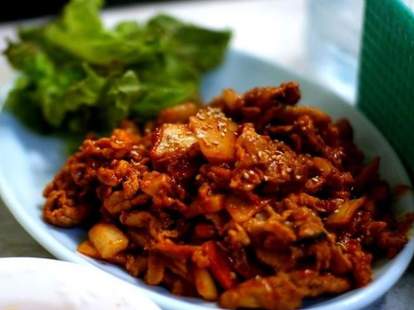 Since the Tech Square crowd can't survive on pizza, tacos, and beer alone (or can they?!?), there's Umma: a new Zen garden-y Korean/Japanese counter-order cafe dotted with sake bottles and a large mural of tree leaves, under which you can devour sushi and full meals that're all under $10 and "well-being oriented", also how they get you up to speed the first day you start living inside a well.
On the sushi side, they'll whip up custom rolls of anything on the menu, and offer combos like Shrimp Tempura + Crunch (said shrimp w/ cucumber, crab, and teriyaki sauce all rolled up & deep-fried), and sashimi ranging from red snapper to ika (squid), soft-shell crab, and the sliced rib eye Beef Sushi, which was once shared between Game and Bigeye Sean.
If you're like Jeremy Piven and just wayyyyy over-mercury'd, grab a soup-sided rice bowl such as bibimbap or marinated BBQ bulgogi, chicken teriyaki, or spicy Bokum dishes like stir-fried squid bento, or BBQ pork known as Jae Yook, which they promise that unlike rappers Jae Millz and Jae Hood, has never been dropped.
Because they're just that awesome, you can BYO wine & sake, or order a healthy cup of organic Shangri La herbal tea, plus coffee and baked pastries delivered fresh from Suwanee-based Korean bakery Paris Village, named after a place where people can survive on cigarettes, croissants, and a disdain for people who eat pizza, tacos, and beer alone.