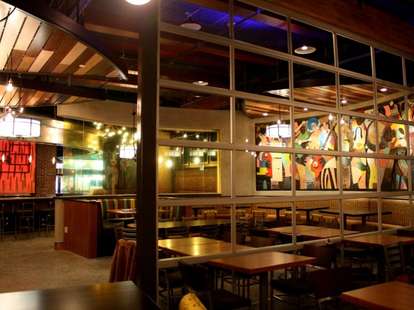 Back in the 1800s, it was all about juke joints, awesome shacks where the hardworking underclass reveled into the night, drinking heavily, dancing to swanky music, and watching as Oprah straight beat Rae Dawn Chong silly. Letting you relive such joyous times very soon, Sweet Georgia's Juke Joint.
Juke's an expansive sonic shack celebrating the famous barrelhouses of old Mississippi with great food, drinks, and daily live music, decked with a brilliant 3-D mural by local artist Stacey Brown, and wetland-inspired details like a backlit bar wall with cattail silhouettes, a glass partition with tadpole-shaped patterns, and even reclaimed barnwood on the bathroom mirror to give it "a bit of an outhouse feel", also what you get if you leave the door unlocked, and're really, really lucky. Starting at lunch, you'll enjoy relaxing tunes from local music majors under a sound-responsive color-changing light system, before things get funkier post-dinner with blues/R&B/boogie-woogie; if you're John Lithgow and hate music, there's even a private dining area with two-foot-thick walls that block sound thanks to "alternating studs", though how they got Fabio and Eric Nies inside is anybody's guess. Get munchy with step-up apps like the Southern Starter (fried green heirlooms, herbed goat cheese, sliced sweet onions, okra croutons, basil oil), sammies like hardwood smoked pork and the potato toast "Big Ol' BLT", or "Entree and Two" dins like St. Louis smoked ribs or pan-seared farm-raised catfish w/ apple relish, proving even seafood knows that PCs suck.
To get even fatter, nab desserts like grilled pound cake w/ stone fruit and Gran Marnier whipped cream, and also take advantage of their full bar with cocktails like the Maker's/ amaretto/ pineapple/ bitters "Chattahoochee Punch" -- and if Miss Sophia delivers one, you'll do more than Squeak.