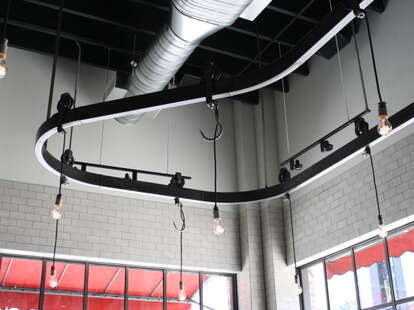 Some things are designed to be awesomely messy, like Sloppy Joes, and also the delicious ground beef sandwiches Mr. Namath eats after he's done trying to make out with Suzy Kolber. Grab some burgers you'll have even more fun watching fall apart, at 5 Napkin Burger.
An NY-based patty palace famed for juicy masterpieces you'll need the namesake to eat without ruining your No Fear shirt, 5 Napkin's revamped Nickiemoto's with subway-tile walls, a winding steel ceiling rack with (totally safe!) dangling meat hooks, a sexy mahogany bar, and a chalkboard collage of random doodles like a cow, a gramophone, and chemical beakers, also the electro group the Muppet started with his cousin. The original 5 Napkin's topped with gruyere, caramelized onions, and rosemary aioli, but there're also alternate burgers like lamb kofta and ginger-marinated ahi tuna, plus Maine lobster sliders on toasted soft white rolls and the all-beef, 1/2lb Pearl hot dog, which, if you could eat daily, would make anyone wanna live to see 227. Wash it down with specialty cocktails like Tennessee Tea w/ whiskey, sweet Vermouth, mint & ginger syrup, 50+ bottles including Weyerbacher's Merry Monks' Ale, and CO's 8.1% ABV Tommyknocker Butt Head Bock, and nine drafts ranging from Port Brewing Hot Rocks Lager, to a blonde from Red Brick, proving even Brian Scalabrine's missed shots hang out with more chicks than you
For some awesome reason they've also got maki rolls like the spicy yellowtail/chayote/ jalapeno/tobiko "Southwestern", and'll soon add brunch featuring buttermilk French toast, eggs Benedict sliders, and eggs with pork chili, which's what Joe Namath tried to do when he got all sloppy backstage at the TLC show.