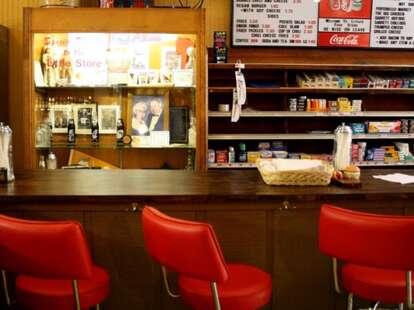 It can be challenging to take something that's been around for decades and give it a newer, better life, although what're you gonna do? NOT tell the kids that Scraps has become a movie dog in Hollywood? Boldly reopening a 1930s burger counter and market, Little's Food Shop.
Just-opened Little's is a cozy nook for dine-in food and take-home beer, wine & groceries, decked with antique Coke vending machines, a framed photo of wrestler Abdullah The Butcher, and a glass case with photos/memorabilia of original owner Leon Little, who is still known as unofficial "mayor of Cabbagetown", so you know that dude got laid. In two weeks they'll have a breakfast bar until 11a (eggs, sausage, bacon, BAKESHOP biscuits) followed by a 4p hot bar of ready-made comfort meals (home-style baked chicken, roast beef & potatoes); 'til then it's cold cut 'wiches (Boar's Head turkey, pastrami, corned beef...) on BAKESHOP bread, with cheese choices like soft-ripened Green Hill from Thomasville's Sweet Grass Dairy, Muenster, and baby Swiss, which unlike Baby Swizz won't be delivered to you by Alicia Keys. They'll also have pastries (croissants, baguettes...), NY street cart Sabrett franks, and house-ground beef burgers (with onions smashed into the patties) like "Little" 2oz-ers, the grass-fed beef/ roasted red peps "Natural", or the 1/3lb, grilled onion, coleslaw, chili, and cheese-topped "Bigfoot", even though eating enough of them will make you easier to find than ever.
The market side's got Zotz fizz candies, about 80 wines, and a beer aisle stocked with sixers of Bell's Pale Ale and Czechbar, plus single bottles of Arrogant Bastard, Framboise Lambic, and Sammy Smith Oatmeal Stout, which's known for its bittersweet finish -- just like the tale of Scraps, even if "sweet" is just what the kids said when told he'd be starring in Air Bud 6: The Round Hound of Rebound.