A permanent promised land for food trucks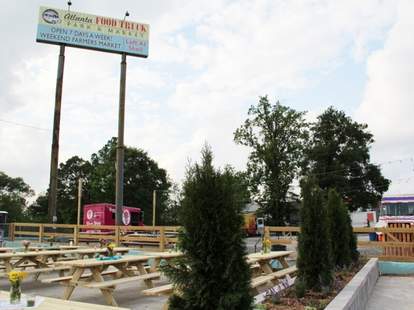 It's finally here: AFTP, a three-acre plot giving ATL's mobile kitchens a permanent all-week home (and also boasting a marketplace, a bocce court, and a small amphitheater) at what the developers are calling a "food truck Mecca", even though very little fasting will be taking place here.
Bring chairs and blankets, then get after 15 trucks that'll rotate to ensure a healthy range of choices, including:
The "Papa G's" Special from Nana G's: A recipe created by the centenarian grandma for which the truck's named, this plate's a waffle w/ bacon, chicken, syrup, and hot sauce, and will likely cause you to dribble madly.
Pan-Asian Eats from Munch: The newcomer will give you Munch-Housing Syndrome thanks to pork or chicken banh mi, fried dumplings in spicy soy, and Thai iced tea in flavors like star anise.
The Dirty Dirty from Mix'd Up: The rock & roll food truck's latest under-$9 specialty is Coke-braised boneless short ribs w/ pickled red onions & chili pimento spread on Texas Toast, which usually goes something like "Football is good, yeah! Now drink that Lone Star!"
Ice Cream from Jake's: Expect awesome flavors like the chocolate/ cinnamon/ cayenne pepper Hot Sexy Mexican and Chocolate Slap Yo Mama, which you should do if she asks for a scoop of this ice cream -- it's that good.
On the weekends they'll have a farmer's market with local producers like HaydenGrove, Pine Forest Gardens, and Broken Arrow, which you'll be praying seven times a day is nothing like that terrible movie.