The feel-good seafood restaurant of the Summer and beyond will be The Optimist, for reasons ranging from its maritime design (floor-to-ceiling windows separated by wood strips made to look like lobster traps, hand-numbered beachhouse-style bathrooms), to its name, which's actually a term for a small dinghy, even though having one makes it pretty tough to be optimistic about anything. Exec chef Adam Evans came over from Fry's JCT Kitchen to craft a menu that includes crabby coconut-brothed mussels, day boat grouper w/ wood-roasted hen of the woods, and crispy Carolina flounder w/ crab roe butter & Decatur-based Love Is Love Farm's rocket salad, which presumably goes well with a tangy spaceship vinaigrette. More wonderfully named things come from the bar, such as the pink gin/ Dolin Blanc/ Angostura bitters The Truth As We Know It (which also somehow manages to deliciously incorporate smoked salmon), the Sea Shanty (basically a Dark & Stormy w/ Harpoon IPA), and the white crème de cacao/ Lillet Blanc/ white whiskey White Train, also a TV show from the '70s that never took off due to really off-beat dancing. And don't forget the Oyster Bar, a sun-bleached wood setup which'll have at least two rotating fruit-punchy booze concoctions, plus dishes like seafood gumbo w/ sausage and Jonah crab, chilled Maine Lobster w/ comeback sauce, and Angels on Horseback, which are very difficult to catch if you're stuck with a small dinghy.
Recommended Video
Get handheld poke with these colorful tacos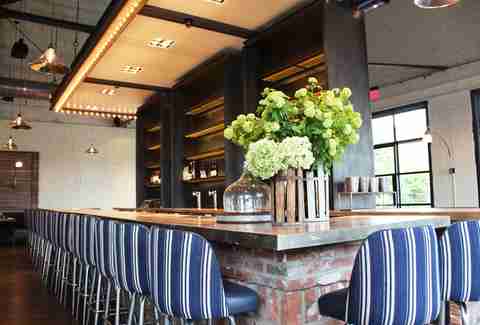 Previous Venue
Next Venue
Venue Description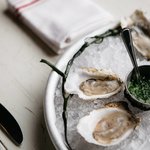 1. The Optimist
914 Howell Mill Rd, Atlanta, GA 30318
The Optimist proudly brings premier sustainable seafood to Midtown Atlanta. The airy, modern, minimalist spot specializes in oysters, with over ten varieties from the East Coast, Mid-Atlantic, and Canada available on the half shell. Coastal, regional dishes (gumbo, clam chowder, fish& chips) make up the rest of the menu. For an after dinner treat, knock out a round of putt-putt on the restaurant's on-site course.