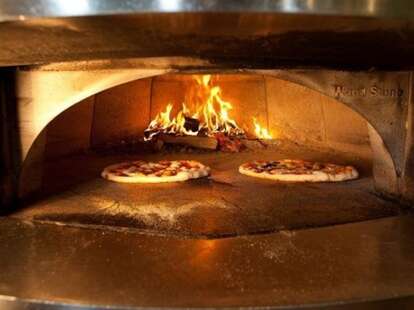 While they're not saying whether or not they used Rosetta Stone (must've, though), opening-Saturday Tre'za employs the Italian word for "three" to tout its face-stuffing components: wood-fired pies, custom salads, and housemade gelato to be downed amongst a gray-marble-brick-walled open kitchen, a rectangular candle chandelier (candelier?), and, because non-Hobbits only have one Earth, recycled wood tables & compostable silverware.
Hit the salad bar to make a custom plate with greens, meats (smoked turkey, wood oven-roasted chicken/shrimp/steak…), cheeses (bleu, goat, feta, etc.), and dressings like yogurt cucumber dill and chipotle or lemon-garlic vinaigrette; there're also pre-made specialties like one with ranch, cherry tomatoes, bacon, peppers, 'shrooms, mozz, and AK's Petit Jean ham, though sadly your own ham will soon be wearing size Grande.
The Napoli-style, low-gluten 'za's made w/ San Marzanos and finely milled Italian flour, before being baked at 700 degrees in a handmade stone oven; creations include housemade Ital sausage w/ caramelized onion & fontina, the prosciutto/rosemary/goat & mozz Perella, and the fried egg-topped Atomica -- so expect George Clinton to take the leftovers home, and feed them to his Doga.
Complete the meal with one of 50 daily made gelatos (maple pecan, pumpkin spice, Mexican hot chocolate), or pick fresh-baked desserts like lemon bars, caramel turtle brownies, and blondies, which in Italian translates to "American girls we're going to stone-cold seduce, silly American."