If you've ever been like "You know what? I'm really sick of ITP traffic. And also not having my rib eye steaks cooked by Oprah's chef", then you should get to Southern Art & Bourbon Bar, a new down-South-y dinner destination helmed by Art Smith, who knows next to nothing about traffic patterns, but is definitely the former personal food-creator for the media titan, and set up inside the Intercontinental with an artsy library aesthetic provided by a ceiling-hung collage of city-themed art, a 48-seat, Peachtree-facing patio, and three separate bars offering various edibles/drinkables.

The menu's deep with breakfast items like fried chicken w/ sour cream waffles, apps including Tybee Island pickled shrimp w/ tomato, "Addie Mae's" chicken-and-dumpling soup (Addie Mae = Smith's ma dukes), and baked oysters w/ crisp pork belly, plus entrees such as the aforementioned aged rib eyes sourced from Smith's 100yr-old Hamilton County cattle ranch, and an herbed half-chicken that's been spit-roasted, presumably by a combination of Roberto Alomar and Lisa Lampanelli.

The tobacco-hued, communal-tabled Bourbon Bar's open noon to 2a and boasts 70 sippers ranging from small-batch distillers to brands exclusive to the restaurant, along with pre-Prohibition cocktails like the Whiskey Daisy w/ bourbon, yellow chartreuse, and grapefruit; you can also hit the vintage "pie table", where buttermilk chocolate cakes and summer peach're displayed on antique cake stands, which incidentally were William Howard Taft's favorite party activity at Yale.

If you're not already 20lbs fatter just from reading this, consider hitting the artisanal charcuterie bar for carved-to-order slices of regional country hog with sides like cracklin' skillet corn bread and biscuits served "piping hot", the same thing you'll say about Oprah, if your eyesight is less than steady, man. Or if you just won a free car.
Recommended Video
This Pizza Dip Lets You Throw a New Kind of Pizza Party
Previous Venue
Next Venue
Venue Description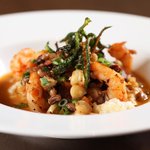 1. Southern Art & Bourbon Bar
3315 Peachtree Rd, Atlanta, GA 30305
Southern Art & Bourbon Bar is a down-South dinner destination helmed by Art Smith, who use to be Oprah's personal chef, which, really, is all you need to know. But I'll continue: it's situated inside the InterContinental with an artistic interior highlighted by vibrant ceiling-hung paintings, plus a spacious, Peachtree-facing patio and three bourbon-focused bars. When it comes to the food, be sure to try the Addie Mae's chicken-and-dumplings soup (named after Smith's mother) or the braised pork belly with yams and sorghum syrup.