Not just the name of Iron Man's sexy assistant after the Communists turned her...even sexier!!...Red Pepper's a taco haven opening Jan 2nd to ¡Bienvenidos! you into a festive space with walls decorated with reclaimed wood and a mural of dancing Mexican workers. There're also lotsa flatscreens, including a 70-incher near the glass-mosaic-backed, satin-finished wood bar, which itself has five adjacent tables equipped with their own draft beer system installed by the same guys who did the joints at STATS.

Fire up with apps like braised beef brisket sopes or hanger steak alambres skewers w/ applewood bacon, then do a crab quesadilla, tacos like the blackened GA trout Truncha Libre, entrees including sesame-crusted salmon w/ oyster 'shrooms, or bread-ensconced eats ranging from a Cuban to the Gouda/jalapeno Luchador Burger -- if only there was a decorative mask to cover your entire bloated body.

But perhaps most importantly, Red's the first spot on Earth with a tablet-equipped self-pouring system, whose screen you'll manically pound to fill your own Dos Equis, Hopsecutioner, Rare Vos, etc., as Pepper tracks it all. Not connected to fancy computers are 100 small-batch Anejos (organic Tolero, kosher Casa Vieja, Scorpion mezcal), with which they twist old-school cocktails like Manhattans, Pisco Sours, or the "Tito Collins", which will thankfully cost you less than a Jackson.

Outside of that -- literally -- the bar's glass garage doors open up to a canopied patio with a granite bar, three TVs, and decor crafted by outdoor furniture company Emu -- named for the flightless bird, which Pepper wasn't any longer, after the Commies gave her that really sexy, revealing flying battle-suit of her own!
Previous Venue
Next Venue
Venue Description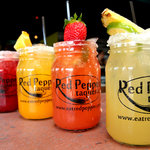 1. Red Pepper Taqueria
2149 Briarcliff Rd, Atlanta, GA 30329 (Brookhaven)
Alcohol flows freely at Red Pepper Taqueria - there are hand-crafted margaritas, more than 100 tequilas, and draft tables where you can pour your own beer. And if you're in the mood for some food with your drinks, get a taco or other Mexican fare.