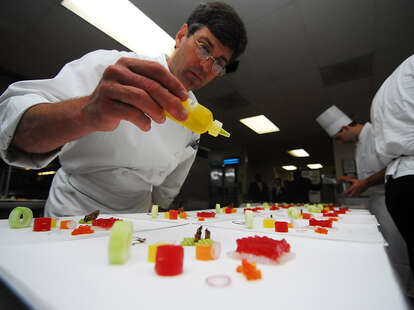 Back for the first time (although thankfully not inviting the chef from Straits -- that food was Ludacris!), the AFWF is kicking off Thursday with untold ways to get stuffed silly all weekend. Luckily for your fatness, Alabama's own Iron Chef America winner and James Beard darling Chris Hastings is here to give you his take on the events you need to find yourself dominating food at
If Bacon is More Than Just a Clever Name for Your Pet Pig: Pig Out Southern Style: "I love this idea of having [75+ chefs] come together", Chris says of the whole-hog/bourbon/beer bonanza. "It goes perfectly with (festival founder) Dominique Love's original question: 'how do we make it about more than being a place to eat and drink?'"
If You Own a Gun, or Just Enjoy Rooting Around in the Dirt: Hunting, Foraging & Gathering Class: Chris himself will show you how easy it is to make stuff found/shot in the wild delicious, from fennel sausage-stuffed rabbit loin to mushrooms, honeysuckles, and "herbs you might find in a park" (here's to hoping that includes Candler post-420 Fest)
If You Like Seafood/Only Half of the Criminal Crew Involving Clooney and Don Cheadle: Oceans 6: "It's crazy that it's not sold out. Bryan [Caswell], Mike [Lata], and Ford [Fry] -- those are some of the best cooks I know. So this would be the first thing I would do.
If You Use Your Skillets for More Than Just Hitting Larry and Moe in the Face: Cast Iron Cooking Technique Lab: "This is great because it's resurrecting old recipes and memories, so it'll be not just eating and drinking, but about knowledge. Everybody in the South has a cast-iron skillet, but now people are actually pulling them out and using them in their daily lives.
No "If" on This One: Craft Beer Trail: "That movement's huge -- really huge," says Chris of this high-ABV walkabout. "It's a great chance to learn and meet the people in that segment of the industry, and these days chefs are working directly with brewmasters to come up with fun seasonals." Or if you're really ambitious, just hit all of the above events, and ensure that by the end, you'll have to literally roll out.Photo by Fottocini