Family-run food truck proves great-grandma had balls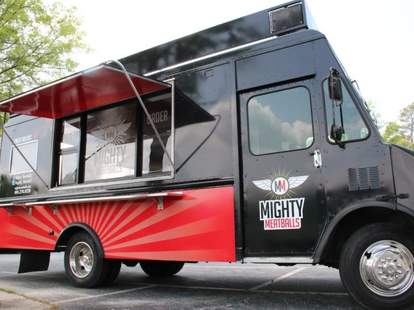 Joining the current movement of food trucks boasting centenarians' recipes, Mighty's a mobile meatball factory from two brothers that features their 101yr-old great-grandma's family-famous carni-spheres, plus a menacing black paint job, a huge window so you can see the kitchen action, and a 32in TV that's been there since the truck's former life as a roving GA Lottery base, but never fear -- these people will actually give you something in return for your money.
While you can and should grab up the original recipe beef/ pork Italian orb w/ pine nuts, raisins, parsley, and marinara, the bros're taking a multicultural approach with others, including the beef/ lamb Gyro w/ tzatziki, the Buffalo Chicken w/ blue cheese crumbles & celery, and the pork/ Thai basil/ jalapeño/ carrot/ Sriracha mayo Banh Mi, which you'll ask them to do when you begin to resemble a meatball yourself after multiple visits.
Those balls can come "naked" (by themselves), tossed into sliders, or made into a three-ball sammy, and the ultimate goal's to transform any meal into a meatball, which'll mean seasonal specials like Coca-Cola BBQ topped w/ coleslaw, and a dressing-stuffed Thanksgiving Turkey, as opposed to "thanks for giving, turkey", or the just-released new motto of the GA Lottery.