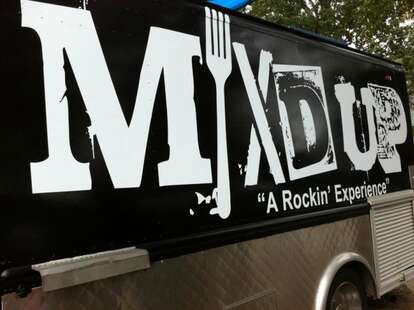 From local catering company Cuzine Chefs comes Mix'd, a wicked-black, menu-always-changing gourmet food truck that blares rock ranging from Hendrix, to headbanger, to hair metal, is plastered with classic albums/posters on the flip side of its retractable service window, and has the intention of being a "Hard Rock Cafe on wheels", so basically, this guy is going to try and sell you a t-shirt.
Get Lester Bangs-ish on $9-and-under global street food-inspired eats like a giant fried Italian risotto ball stuffed w/ buffalo mozz & jalapeños and served w/ chipotle marinara, ground lamb sliders w/ garlic, rosemary & tzatziki, and orange hoisin-glazed skewered pork loin w/ Chinese five-spice, also a knockoff Girls band whose Posh dates Yao Ming because nobody knows their soccer players.
Rawk out further on "drumsticks" (like a big pizza stick...w/ prosciutto!), beer-braised Swiss sausages on a baguette w/ caramelized onions, and "Fry Cones" topped w/ pesto aioli/tricked-out ketchup, and soon you'll be able to tap the self-serve soup mechanism, which is the best invention since a guy who just ladles your soup for you.
Best of all, you'll eligible for a free meal once you get five stamps on your customer rewards card (designed to resemble a concert ticket), which you get on your first visit (or upon becoming a Facebook fan) after being a "Groupie", a group who cares little for t-shirts, and only that your rocks are hard.