The venerated Austin chain is celebrating entry into their teenage years by marathoning My So-Called Life, and also asking customers to send in their craziest taco ideas for a chance to win gift certificates, and be immortalized on their menu for the month of January.
Recommended Video
Roasted Red Pepper Deviled Eggs: Perfect for Parties, Grandma-Approved
Previous Venue
Next Venue
Venue Description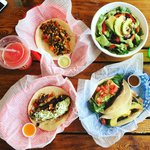 1. Tacodeli
4200 N Lamar Blvd, Austin, TX 78756
This Austin taco hotspot prides itself on using local and organic ingredients and creating lasting relationships with its suppliers, which is all in the service of creating a healthier and closer-knit community (with tacos!) The family-run business makes freshness a priority, constantly changing and updating the menu with the best of what's available and making room for new inventions from the kitchen. Breakfast tacos, vegetarian and vegan tacos, and an entirely gluten-free menu mark Tacodeli's commitment to giving their customers what they want, and still making delicious food while they do it.