Ensure your Super Bowl spread is far from offensive with these no-brainer recipes from some of Austin's most savory chefs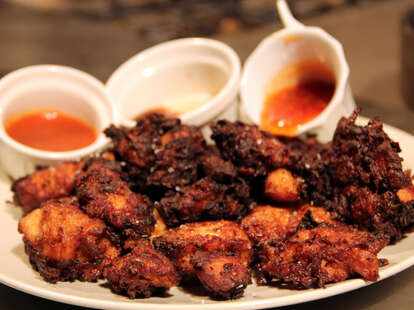 Whether you're rooting for Brady, Manning, or whatever combination of Brady + Manning will get you over 55 points, these super-simple snacks will make you a huge winner with your game-day party-goers. Unless they bet the under and end up hating you.
Spicy Nuts and Chicken KakiageMoto Utsunomiya, East Side King One of the masterminds behind the ATX's most lauded food trailer has contributed a trick to level-up the most basic of snacks, as well as a simple strategy for deep-frying Asian chicken bites, as Charlie Fryeing them would lead to you discovering they were terrible and never trying them again.
Deez nuts are so easy to make if you follow this recipeSo is dis chicken
Bruschetta of Bacon, Local Honey, and Pickled Hot PeppersParind Vora of Braise East 6th's French new-wavers suggest topping toasted ciabatta with that crispy-crispy, plus bell peppers or jalapenos sauteed in vinegar and honey, for a dish as hot as Mariah Carey back when everybody wanted in her Music Box.
Whatever dude, you totally would have hit that back in '96. Now hit this bruschetta.
Agave Grilled QuailBen Huselton of Paggi House Way easier than it might sound, the New American whiz kids at Paggi have dreamed up skewers of cantaloupe and agave-coated grillings of everyone's favorite miniature bird.
Sorry DeSean Jackson -- maybe don't be such a jerk next year! Learn the steps right here.