<em>Anything</em> you need, delivered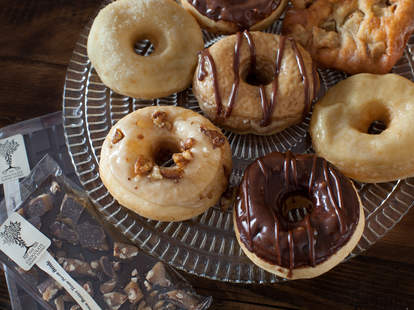 Because even the most baked couch potatoes don't necessarily have Lay tastes, meet your urgent needs for artisan goods with Coterie Market: a delivery service stocking 30+ local vendors (they're aiming for 200), helmed by the very first employee of BuildASign.com, who've run crop-circles around their competitors
Most items -- from Gourmet TX's Roasted Garlic & Jalapeño Linguine to Dos Lunas Cheese -- are delivered same-day for free (except made-to-order baked goods), and the stock's broad enough to save you from extreme situations like
You're making a club sandwich and get some mustard on your shirt causing you to hate your current brand of mustard and develop a condiment-induced migraine.
Grab Fireman's #4 mustard, a new vintage-style polo from Criquet, a Bacon apron from homeware warriors Fish & Fern to protect from future accidents, and a shot of headache relief tonic from Ginger Webb's Texas Medicinals
You're craving the rejuvenating powers of Barton Springs, but it's Thursday, you're exhausted, and you've gotta go to your friend Juan's wedding anyway, who saved a ton of money by getting married on a Thursday.
Up your spirits with a Bearded Bros energy bar, then wash it down with a Zilker Park Cola from Barton Springs Soda Company. Be the hero of the reception with two dozen Mexican wedding cookies from Amity Bakery, and a Just Married card from Ann Woodall Studios
Your newly not-pregnant wife (it's a boy!) is wiped out from wiping up baby droppings. The damn kid won't stop rocking the cradle, and she's a bit depressed and bitter that you'll never understand the hardships she endured during labor.
Clothe the kid in a rocking, guitar-adorned onesie from Kandle Kids Wear and he'll be so appreciative he'll let you take a solo. Show your wife some love with a Son of a Sailor necklace, then calm her nerves with some post partum wellness tea from Ginger Webbs. Then relax on the couch with some Reel wasabi ranch popcorn, and maybe stream Junior on Netflix.