While almost any new Georgetown restaurant is monumental to locals, it's rare when an opening attracts more than just Pirates and people old enough to remember when pirates were a serious threat. That's all changing with El Monumento, a massive Monument Cafe offshoot overlooking Blue Hole, with a kitchen so open there are actual windows into the freezer, and an exterior whose adobe-colored reclaimed bricks could only be described as Southwestern. Ranch and hacienda-inspired cuisine starts with the likes of the Campechana Cocktail (Gulf shrimp, crab, tomatoes, green olives, lime juice), before moving on to platos fuertes including crispy pork cheeks, duck confit tamales, and chimichurri & mole Carne Tampiquena with potatoes rajas & a cheese enchilada (sides that are actually full meals = what makes Mexican cuisine the best). The bar's impressive by Austin or G-Town standards, with taps pouring Real Ale, Live Oak, and a special No Label hefe out of Katy, as well as classic cocktails from Dark N' Stormy's to Moscow Mules, because for many Pirates fans, the Cold War is still on. Photo by Carlos Barron Jr.
Recommended Video
Attention All Wine Drinkers: This Is the Pasta You've Been Waiting For
Previous Venue
Next Venue
Venue Description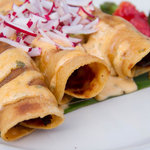 1. El Monumento
205 W 2nd St, Georgetown, TX 78626
You'll try El Monumento for the experience - a dining pavilion, an open kitchen, an interior courtyard, and a terrace overlooking the Blue Hole lagoon are enough to draw anyone looking for a lunch spot with a view - but you'll come back for the home-style Mexican fare and delicious cocktails.