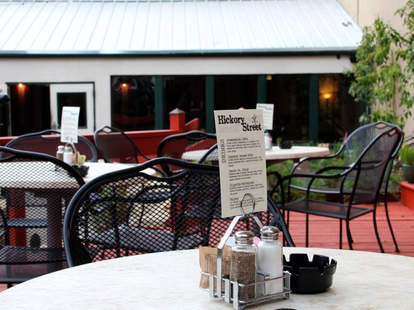 Aiming to make a local icon young again without the help of Ronnie Brown: the new Hickory Street, just given a kitsch-stripping facelift by the guy behind 3rd Base & Barcelona, plus an organic infusion via a porch garden and area-focused eats by the chef from Bess Bistro, which brings to mind another iconic Austinite who totally loves makeovers.
Keeping true to its '83 roots as a quick-service comfort spot, the menu's anchored by sandos like Mini Bison Burgers (caramelized bourbon onions, smoky sharp cheddar), Palacios-sourced Texas Fried Catfish Tacos (jalapeno tortillas, cilantro-lime apple slaw), and venison chili, smoked cheddar, and pickled jalapeno-topped Wagyu Dogs, served with a side of perfectly marbleized Robert DeNiro.
Heartier selections count gluten-free fried chicken in house hot sauce, short rib mac & cheese (penne pasta, smoked sharp chedd, Parmesan cream), and big bowls of green like the medium-rare Grilled Coffee Steak Salad with chipotle vinaigrette and queso fresco, also what you'd call a mural painted with Mag Mud.
Filling the Capital-area happy-hour hole, they're also boasting top-notch 'tails like a 'rita with Three Olives watermelon vodka & el Jimador, as well as a chipotle/Pacifico michelada, two drinks that will undoubtedly have you and your reputedly too-small hands running back for more.