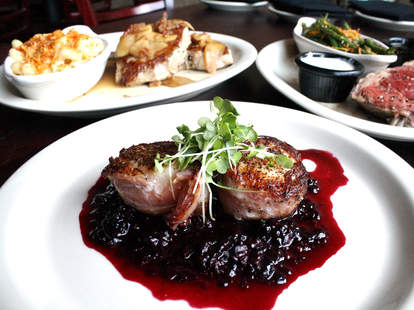 A truly great rivalry binds the parties together forever, and also makes Texans remember that Robin Ventura was a baseball player. Now two fierce competitors are uniting under the banner of cow, at Rivals Steakhouse
From a pair of little league coaches whose kids' teams are too young to know the phrase "familiarity breeds contempt" but not too young to live it, Rivals splits the 600-capacity former foam-party hub Paradox into a flatscreened sport-watching level, and quieter date destination, assuming your date finds acrylic paintings of cattle and running backs romantic. They're using all-natural Stephensville's Premium Gold Angus Beef for cuts ranging from a creamy horseradish'd 16oz prime rib to a hulking 20oz porterhouse; get fine non-bovine via two apple-bacon pan-sauced, 8oz bone-in pork chops, or goat-cheese-buttered Smoked Goat Chicken, which'll be harder to finish after you down apps like prosciutto-wrapped scallops and blue cheese beef medallions clearly prepared by Mr. T-Bone

Since nothing fuels an adult rivalry quite like alcohol, they're also rocking a solid Scotch selection and cocktails like the Buffalo Trace/allspice dram Hard Hitter, which is mainly what Robin Ventura remembers about Nolan Ryan.