Cocktail masters turn Italian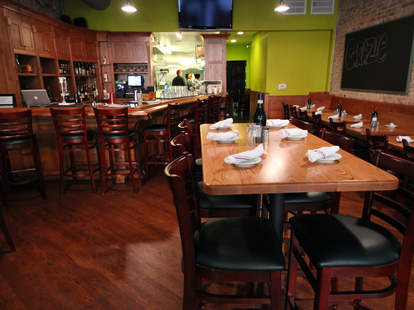 If something's worth doing "when in Rome", it's probably worth doing elsewhere, which is possibly why old people the world over are always falling, and definitely why the Peche chef wanted to do authentic Italian after spending a month in the Boot. Enter Cherry Street: a new eatery in the spruced-up former Hog Island space, serving from-scratch fare starting with hand-pulled buffalo mozz, house-baked bread, and daily fresh pastas alongside local veggies from Springdale Farms.
Kick off with gorgonzola/ mushroom arancini and a hearty, anchovy-laden Caesar, then step up to piatti including wood-fired pizzas like a sopressata/ mushrooms/ fontina number (add a runny-yolk egg for 2 bucks), sandwiches such as a polpette meatball sub, and a short list of gnocchi-heavy starch action, from a potato variety (brown butter, squash, sage) to more noodley trofie with basil pesto and parmigiano reggiano, which unlike Reggiano Miller is capable of clinging to you without annoying you

Since it is the Peche dudes, of course they're rocking classic 'tails from Negronis to Aperol spritzes, as well as more creative sips like the Famous Grouse/ Ramazzotti/ Disaronno "Godfather", who'll make you an offer you can't refuse... on a complete Life Alert paging system!