Tossing their dough into the 6th St pizza ring, this Violet Crown Social Club-fronting trailer dishes it out "Detroit-style" with Sicilian-esque pies cooked in square steel pans formerly used on auto assembly lines, with crispy crusts covered in caramelized cheese, toppings under the cheese, and sauce on top. Styles include the Detroiter (smoked and natural cased pepps), the Carnivore (pepp, ham, sausage, bacon slices), and the cheese/ mushroom/ onion/ green pepper/ black olive Omnivore (remove the dilemma by adding double pepperoni).
Recommended Video
Roasted Red Pepper Deviled Eggs: Perfect for Parties, Grandma-Approved
Previous Venue
Next Venue
Venue Description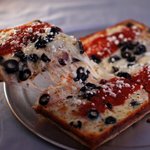 1. Via 313
1111 E 6th St, Austin, TX 78702
Detroit-raised brothers Brandon and Zane Hunt are bringing their hometown's deep-dish pizza style to Austin at Via 313. The pizza is made the authentic Detroit way, which means square-shaped pies with Sicilian crust, a layer of pepperoni, cheesy edges, and a tangy red sauce. The pies come in slices of four, and if you'd like a more, er, mainstream pizza, thin-crust rounds are also available. Aside from pizza, Via 313's two full-service restaurants serve salads and a few appetizers, like cheese bread and house-made meatballs.