Drive-thru Mexican delicacies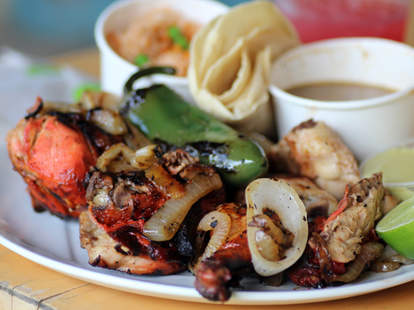 Finally offering a Pollo Rico alternative for the rico, is Fresa's: a gourmet take on charcoal-grilled chicken drive-thrus in the old Emerald City Press spot, from the dudes behind Lamberts, Perla's, and Elizabeth St Cafe, another successful example of a regional delicacy made really pho-king expensive.
However: that price jump (about double its super-cheap forebears) is justified by quality, with the pasture-raised fowl coming direct from a sustainable farm two hours south in Floresville, then given finger-licking marinades of either achiote w/ fresh-squeezed citrus or cracked pepper/oregano, and served with traditional lime/grilled onions/jalapenos and either Mexican or Jasmine rice, charro or black beans, and house tortillas or bolillos, which as everyone knows are white people, or Bo Jackson's children.
If, like Blue Edwards, you're not up for a half or whole Bird, they've also got tortas like the Classic (pulled achiote chicken, avo, queso fresco, chipotle crema) and Gringa (chicken/avo salad, radish, sprouts, cholula mayo), summer salads like the Fruta Mixta (melon, pineapple, mango, green grapes, jicama, chile, lime), and sides like Mexican street corn w/ chile and lime zest.
Cutting out a trip to the gas station, they're also selling six-packs including Negra Modelo, Franziskaner Hefe, and Fireman's #4 -- all with a small mark-up, but not nearly enough to feel like you're getting hosed.