Chewing the fat with the godfather of meat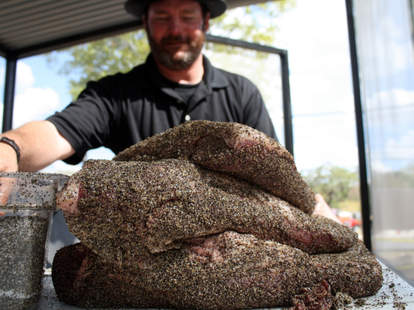 After a five-year hiatus, third-generation pitmaster John Mueller had some 'splaining to do, so we sat down with him at his newly opened South 1st trailer to learn grandfatherly lessons, rub elbows with the rub, and ask childish questions about sex.
At what age do you think it's appropriate to give a child his first bite of brisket?

When he gets his first tooth. I was a little kid, maybe six or seven, and was walking by the pit at Louie Mueller's. It looked so good, I just peeled off a little piece and ran away so my Dad couldn't see me.
Did you have health problems from never eating any fruits and veggies other than potato salad?

I still don't really eat vegetables and I'm still here. I've been making potato salad since I was six, and I've never tried it.
Your family's famous for using only salt and pepper in their rub. How did they come to that decision?

My grandfather had a meat market and salt and pepper was the cheapest way to get rid of a cut from the butcher shop. That's how we started and that's the way it's always been.
What's the most important thing you learned from your grandfather?

He always told me not to learn the tricks of the trade, but to learn the trade. There's a lot easier ways to do this, and he instilled in me to not do this the easier ways.
Is there any exotic meat that you've always dreamed of smoking?

I've always wanted to smoke half a cow. I'd like to raise little piglets and cook those too. When I was not BBQing for a few years I was thinking of becoming a pig farmer. I'm not sure if that was whiskey-induced or not, but I was going to become one.
Spare ribs or baby back?

Spare. More meat, and baby backs are such a cliche. Chili's, Applebee's, blah blah blah. I'm doing St. Louis-style right now because they're meatier. With St. Louis you'll get four or five good ribs. It's more of a fair cut.
Any secrets to your sauce?

It's a ketchup-based sauce, it has onions and butter and salt and pepper. It's not brain surgery, it just goes well with what we cook. It kind of pisses me off when I see people putting a bunch of sweet sauce over really good meat.
Who's the most famous customer you've ever served?

The customer that would show up three or four days a week. That's who was famous to me. But on Manor Rd we did a lot of draft days for pro football teams. We had a really good running business with L.A. Reid. Robert Rodriguez was a really good friend and customer. In those Grindhouse movies he built a BBQ place and modeled it after my place. And because I'm a smart-ass, he would write down things I said to customers, and the BBQ guy in the movie would use those quotes.
Do you get girls coming up to you all the time and saying how much they love your meat?

They do. They ask if they can have some of my juicy meat. Once a lady came up to my Dad and said, "Bobby, I sure want a big ol' hunk of your juicy meat." My Dad kept laughing, but I think she was serious. I don't think I'd ever seen him blush before. I think she slipped him her number.