Did you know that if you put chicken fried steak on a donut you can eat a donut anytime? It's true, and that's why Gourdough's is putting all manner of savory on their 'nuts in the old S Lamar Kerbey Lane spot, which they've stripped down and rusticized with schloads of barnwood and tables height-adjustable by old fashioned cranks, so tall guys don't feel like they're at the kids table, and short guys can reach the food that'll at least make them wide


Never available at the trailer, entree donuts come unglazed, with standouts like the Ron Burgundy Burger (w/ bacon, fried egg, American cheese, cilantro, guac, slice tomato, mayo), the Drunken Hunk (bacon-wrapped meatloaf, potato pancake, fried egg, candied jalapenos), and, using that c-f steak, the Dirty South, an even more delicious thing to put in your mouth than diamonds


Fatasses don't fear, as they've still got plenty of dessert 'nuts, from the Southern Belle (pecan pie filling, cream cheese icing, candied pecans), to the Freebird: cheese-cake filling & cream-cheese icing that'll keep you from landing a woman you can later cruelly ditch in the name of vagabondy freedom, plus graham cracker crumbles, strawberries, & blackberries


Another big upgrade over the trailer is the very serious bar program, boasting drafts like Real Ale's Coffee Porter and specialty cocktails such as Grandpa's Breakfast, in which maple syrup, blood orange & egg white make nice with bacon-infused bourbon, because when bacon's in your bourbon, you can drink bourbon anytime.
Recommended Video
This Pizza Has Fried Chicken for Crust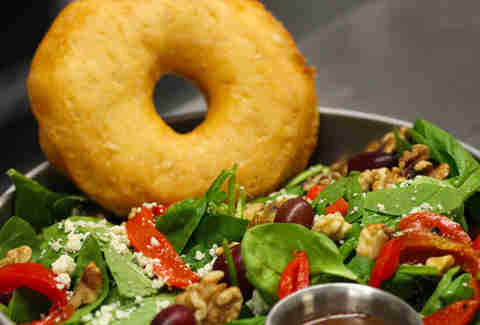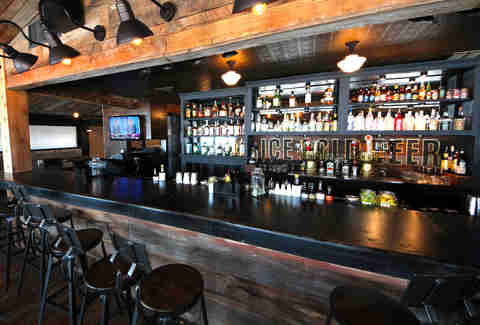 Previous Venue
Next Venue
Venue Description
1. Gourdough's Public House
2700 S Lamar Blvd, Austin, TX 78704
Gourdough's Public House, operating out of S Lamar Kerbey Lane in South Austin, has redefined the function of the donut, again. There is a "Donut Burgers" section in their menu, in real life. To bring you back down to earth, you can pair that with a specialty cocktail with bourbon-infused bacon, because that is also real.