JMueller BBQ has been rechristened La Barbecue after disputes that ultimately led to the South 1st trailer's pit boss being replaced by his second-in-command: a competitive circuit up-and-comer who also cut his teeth at Franklin, a difficult task given the tenderness of their beef. The new guy's style merges old-school techniques with an approach as free of dogma as your DVD collection, marked by more complex rubs (the brisket's uses five ingredients instead of the traditional salt/pepper), higher quality post oak, and air-flow improvements to the ancient pit to accommodate a lower, slower smoking approach. Beef now hails from the cattle world's Neiman Marcus (Niman Ranch), while new menu items count Hot Guts sausage ground in-house with a kick of red pepper, a blasphemous pulled pork, fresh toppings like cherry peppers and jalapeno jack cheese, and a revamped sauce brothed from pork bone. In the future they hope to add options like house pickled onions/jalapenos as well as pork belly sliders, throwing TX tradition out the window... then using the same window to pass you something that also tastes pretty damn good.
Recommended Video
You Can Now Get Artisanal Twinkies Delivered to Your Door in NYC
Previous Venue
Next Venue
Venue Description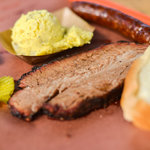 1. La Barbecue: Cuisine Texicana
902 E Cesar Chavez in the Good Life Food Park, Austin, TX 78704
This is a no frills barbecue joint is known for their hand made sausage and mean slabs of meat. Behind La Barbecue's fire is veteran pitt boss (which is basically like the General of the BBQ world), John Lewis, who can also churn out whole briskets and racks of ribs to go if you're in a hurry. And did we mention the live music? Yes, every Saturday and Sunday, as it should be in the live music capital.