Throw on an "I Can Haz Farm to Table" t-shirt & your finest pair of Sartre glasses, and head to Lenoir: a hotbed of super-fresh tweaked French cuisine from a chef power couple (Trio @ Four Seasons, Dai Due Supper Club) who've remodeled the former Somnio's themselves, giving the 32-seat space a soft, ethereal vibe via gauzy white curtains billowing over reclaimed, light-colored wood (aka, Elijah).

Kissed with ethnic spice, citrus, and acidity, the three-course prix fixe menu is broken into four sections (Field, Sea, Land, the dessert-repping Dream), with proteins like Axis Venison (spiced broth, rawa noodles, sunflower sprouts, hakurei turnips), poached fluke (black rice, bok choy), and pork osso buco in red curry with scallions and imperial lima beans, who're looking to take over neighboring chiles.

Fresh from the field are chickpea panisse (oyster mushrooms, wilted winter greens, poached egg) and Indian upma polenta (brussels sprouts, melted carrots), while your final course will see the likes of brown butter pecan cake with creme fraiche & ginger mayhaw jelly, from fruit indigenous to southern wetlands, making this Dream a wet one.

Wine and beer is curated by the house sommelier, who'll suggest complementary Spanish and Portuguese vinos ranging from lighter reds to full-bodied whites, aka, not Elijah -- dude's a hobbit!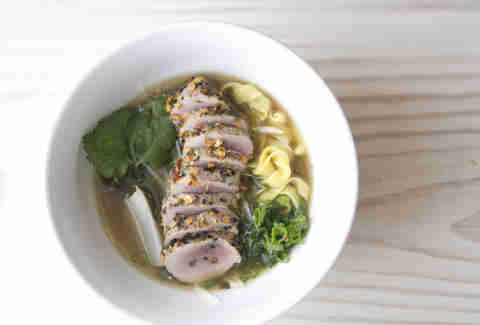 Previous Venue
Next Venue
Venue Description
1. Lenoir
1807 S 1st St, Austin, TX 78704 (South Austin)
A locavore's haven, Lenoir serves French-inspired cuisine that unites community and fresh ingredients to cultivate a new food experience through a seasonal and prix fixe-style menu. Sample dishes from the sea like snapper ceviche with avocado puree, lime serrano and summer melons or rove the land with roasted guinea hen, kasu noodles, antelope ham broth, string beans, and sprouts. Guests can also dine at Lenoir's wine garden, which offers small plates and shareables alongside a variety of beer, cider, and wine.