Brain-freezing artisan scoops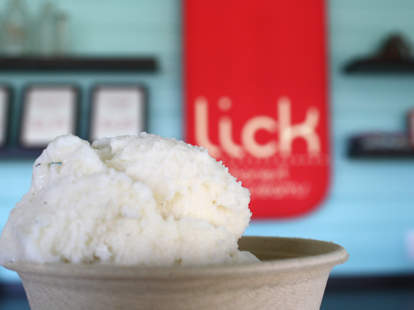 Because there's always room for the Timex of desserts (takes a licking, keeps on dripping), scream over to Lick Ice Creams: a South Lamar storefront peddling small-batch (2.5gal) not-quite-custards (dense from lack of added air, but no eggs) made of organic milk/light cream from Texas Daily Harvest grass-fed cows, sweetened with brown rice syrup, and flavored with locally sourced madness from fresh thyme to Pure Luck goat cheese, certain to be the Dolphins' #1 Dairy Draft choice. Some of the mad flavas
Granny's Pumpkin Pie: This mix of cinnamon, clove, nutmeg, and local gourds will remind you of everything Americans have to be thankful for -- which in these dire times is pretty much limited to The Gourds.
Breakfast Bacon: Smoked applewood pig-strips, backstrap molasses, and brown sugar combine to form a dessert that Fat D'Angelo clearly didn't just want "some" of.
Beet and Mint: Everybody likes mint. And everybody who isn't six years old likes Johnson's Backyard Garden's seasonal beets, unless you really prefer Squeeze to The Fall
On-deck holiday flavors include cranberry sorbet, eggnog, brandy, and whiskey, and the owner's also looking to experiment with more cheeses (Gorgonzola?) and roasted veggies including kale and Brussels sprouts, helping ensure your heart keeps ticking after all that licking.