Taking over the former Lift Cafe location after a 5yr Gulf Coast stint, Toastie's serves slightly skewed versions of classic submarines, including a Cuban, Flanagan's Italian Chicken Salad (with pesto!), and, since Orion's isn't the only belt that could use some loosening, the au-jus'd pan-roasted beef, melted Swiss, and grilled onion Big Dipper.
Recommended Video
Where to Eat South Florida's Finest Frita, Miami's Signature Cuban Burger
Previous Venue
Next Venue
Venue Description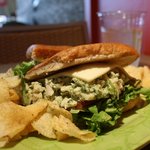 1. Toastie's Sub Shop
215 S Lamar Blvd, Austin, TX 78704
Located in the former Lift Café space, Toasties Sub Shop is the stop for timely, quality, affordable sandwiches, tacos, and salads. Their sandwich repertoire features Texas-inspired classics -- like Cuban, Banh Mi, and Reuben Subs -- and their tacos are classically Tex-Mex, with options like barbecue pulled pork and baja shrimp. They offer salads, wraps, and smoothies for the health-conscious diners, gluten free and vegetarian options for those with dietary restrictions, and foosball for the folks that just can't sit still.