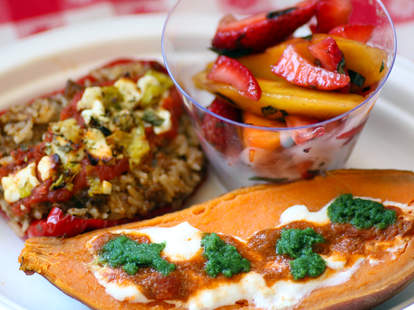 Since it seems like the things kept weirdest around here lately are live music regulations, opt for a slice of old Austin (that still complies with the new 8p cut-off!) at Go Go Gourmet. Moved over from Cherrywood by its 35yr-Austinite owner and his son, the lunch & dinner cafe has given the old Hyde Park Fricano's spot a funkier vibe via spinning vinyl, a massive hippie-pointillism painting, and a portrait of comedian Charles Nelson Reilly that watches over the cash register to prevent funny business
A written menu's still in the works, but in the meantime the gregarious owner will guide you through a constantly-changing lineup that starts with sandwiches including a $4 daily special, a Reuben, a tuna melt, his mother's meatloaf sandwich, and the bacon/ lettuce/ tomato/ guac LGBT, which is high in trans-fats

Beyond bread, there're deviled eggs, pork & olive empanadas, beef & pepperoncini-stuffed red peppers, chutney-topped sweet potatoes, roasted brussel sprouts, and mac powered by a secret cheese that starts with the letter V, and that health experts hold a vendetta against

The owner's hoping to keep the records rotating by selling off some of the vinyl and then replacing it with more from his own collection, so you can Go Go home with some weird new tunes and play them as loud and long as you like.