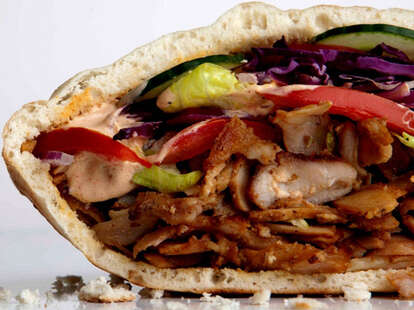 Berlin and Austin share an open-mindedness towards everything from culture to infrastructure, though tellingly, their trains are always on time, while ours arrived two years late.
Hoping we'll also share their taste for spitted Turkish meats: Verts Kebap. Started up by a young German engineer who enrolled in the McCombs School just to get the visa that allowed him to start this biz, Verts has simultaneously opened two campus-area locations (one in Dobie, the other in the former Slices and Ices spot), both dedicated to the rotating roast popularized in 1970s Berlin by Turkish immigrants, whose avoidance of pork meant David Bowie could still keep the title "The Other White Meat". With blonde wood accents highlighting understated metal fixtures and walls soon to be hung with photos of the capital city, the twin fast-casual joints sling chicken, beef, and a beef/lamb combo, all procured from a German/Turk butcher with 30yrs experience back in the Fatherland, also what small-time crook Patrick Swayze hoped to retire to after leaving the Father 'Hood. The meat's delivered either via traditional pita baked in-house with a recipe arrived at after meticulously testing 15 types of flour, or in a tortilla or salad, and comes topped with a choice of veggies (lettuce, cabbage, corn, cukes, red peppers, jalapenos) and simple sauces ranging from the house tzatziki, to a vinaigrette, to a spicier number that'll be ready as soon as he's touched base with his Boys at the Hot Sauce Committee.
In addition to the two physical locations, Verts will soon unveil what's perhaps the worlds smallest food trailer, with a full kitchen and refrigeration unit built into a Smartcar -- a vehicle for which you must be open-minded, and have a tiny caboose.