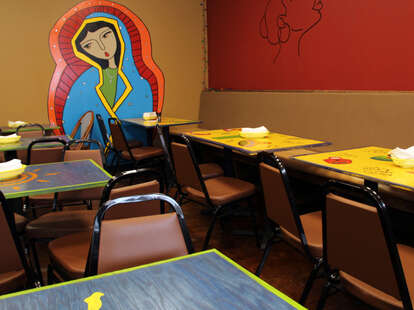 Things smoking on campus: the Tri Delts, that lonely hookah dude at Pipes Plus, and Taco Joint, a new San Jacinto counter spot from Sao Paolo's chef, where a mural of the Lady of Guadalupe overlooks tables painted with cartoonish Mexican imagery.
Eats are inspired by the owner's South Padre upbringing, with from-scratch flour tortillas wrapping cilantro'd lunchers like El 4/20 (beef carnitas stewed in guisadito, shoestring papitas), the Wholey Mole (pulled chicken, queso fresco, cabbage), seared or fried fish (honey lime cabbage slaw, chipotle, Cotija), and the pork carnitas, diced onion & Cotija Pastorito, ordained to be delicious.
If bolillos are more your style, opt for tortas sided with banana chips in varieties like El Cubano (oven-roasted pulled pork, grilled onion, 'peno, Swiss, garlic mayo), El Mejicano (seared beef milanesa, avo, spicy bean spread), and La Ahogada, stuffed with fried pork, queso fresco, and pickled onions, then "drowned" in fresh tomato sauce, though forensic pathologists are split over whether this is death by fruit, or vegetable.
For wake-and-bakers, they're doing standby breakfast tacos, plus specials like a steak & egg with smoky gouda, chicken tamales vera cruzano, and, on weekends, barbacoa or benedicto (ham) tacos with scrambled eggs, avo, and spicy Hollandaise, or, how Amsterdam makes your brain feel whether you're a Tri Delt, or just not trying anymore.