Some of history's most memorable moments have involved tearing down walls, like the one that divided Germany, and, in a case of history repeating itself 4x a day on the Cartoon Network, the one that divided the Hill and Souphanousinphone backyards. Largely dispensing with walls in the first place: Contigo. One of the first eateries within walking distance of the old Mueller control tower, this raw-industrial tapas & cocktail haunt's heavy timber tables sit mostly exposed on an expansive patio, with a few stashed in a smaller covered area flanked perpendicularly by the bar and kitchen, so that it's only enclosed by two walls, or, should a camera be rolling, three. Quit staring. Vittles come courtesy of Olivia's/Jeffrey's vets, with starters like fried quail legs with hot wing sauce & Shaft bleu cheese and the pickled-green-tomato Ox Tongue Slider, plus four charcuterie plates, as well as entrees like rabbit with carrots, cippolini onions, and sage dumplings, who unlike fortune cookies are far too distinguished to add "in bed" to their advice. Tipsy Texan-designed sips run from the El Pepino (tequila, cucumber water, mint, lime) to the bourbon/ Scotch/ Luxardo/ ginger brew El Jefe, an inspiring drink that proves you can still be the Boss even if you're not Born in the USA. Not to forget the beer aficionados, they're tapping kegs of Thirsty Goat Amber, Left Hand Ju Ju Ginger, and a "West Coast IPA" from Green Flash -- a phenomena you can see every morning, or a character you can presumably see on the Cartoon Network 28 times a week.
Recommended Video
These Hot Dogs Are Served on King's Hawaiian Rolls
Previous Venue
Next Venue
Venue Description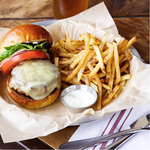 1. Contigo Austin
2027 Anchor Ln, Austin, TX 78723
Contigo Austin strives to bring the ranch to the people, having patrons sit down at large wooden tables on an equally expansive patio to chow down on flawless BBQ, other seasonally diverse menu items, and a long list of craft beer. Open for dinner and brunch, you can enjoy outdoor or indoor seating, as well as some great happy hour specials. Contigo is the perfect place to catch up with friends or bring a more casual date.