The East 6th deep-dishers behind Via 313 have unleashed their second trailer, this one behind the Red Shed Tavern in way-South Austin, where they're doing new pies like the Continental, which either comes with croissants and lots of those really little cereal boxes, or shaved arugula, Parmesan, and prosciutto.
Recommended Video
This Rosé-Filled Picnic Is the Perfect Summer Festival
Previous Venue
Next Venue
Venue Description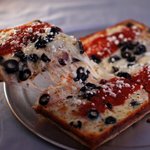 1. Via 313
1111 E 6th St, Austin, TX 78702
Detroit-raised brothers Brandon and Zane Hunt are bringing their hometown's deep-dish pizza style to Austin at Via 313. The pizza is made the authentic Detroit way, which means square-shaped pies with Sicilian crust, a layer of pepperoni, cheesy edges, and a tangy red sauce. The pies come in slices of four, and if you'd like a more, er, mainstream pizza, thin-crust rounds are also available. Aside from pizza, Via 313's two full-service restaurants serve salads and a few appetizers, like cheese bread and house-made meatballs.