Cesar Chavez's enhanced-patty kings have expanded to a new spot next to Tamale House that's decked out with pop-culture paintings from Hendrix to The Dude, who fully endorses you consuming the BBQ-sauced James Brown (stuffed w/ cheddar, pulled pork, dill relish) and the American cheese-stuffed, bacon-wrapped Willie Nelson, topped with an onion ring and served on Texas toast in honor of Texas's most toasted.
Previous Venue
Next Venue
Venue Description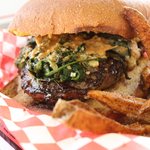 1. Your Mom's on Airport
5001 Airport Blvd, Austin, TX 78751 (Hyde Park)
Your Mom's Burger Bar serves delicious stuffed (yes, stuffed) hamburgers. So, go ahead and get stuffed. Seriously, you have the option of sticking pulled pork and jalapeños in these already-marvelous burgers.