Brewer of pies arrives in Rosedale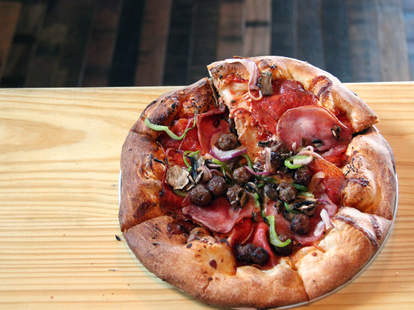 Nothing pairs better with beer than a slice, so get doubly sauced at Pinthouse Pizza: a Rosedale brewery/pie shop whose character's expressed via long community tables and a mural inviting you to relax and have a whale of a good time, though technically that means you can still act like a Dick
The dough's made in-house and loaded with local/organic toppings to make classics (Hawaiian, Margherita), specialties like the Hill Country (bacon, spinach, mushrooms, ricotta), and off-the-mappers like the Steak & Fries, and Return of the Mac, which unlike that liar Mark Morrison, is actually covered with mac 'n cheese

Worked out by a guy who did time at Odell's in Fort Collins, the pint-sized half of the equation is starting out with four house brews: Man O' War IPA, Calma Muerta Session Ale, Iron Genny Pale Ale, and Bearded Seal Dry Irish Stout. Look forward to seasonals (Mexican lagers, Czech pilsners), the bar's experimental "pilot ships", and small batch Fallen Cask IPA, named for the possibly apocryphal first IPA batch ever, which sailors had to retrieve after it fell overboard -- a lot more effort than they put towards retrieving other sailors.

Not being self-centered, they also boast 39 taps flowing with suds made by other folks, like Austin Beerworks (whose design-firm also worked on Pinthouse), Jester King, and Hops 'n Grain, so no matter what you're into, you're bound to find a suitable spout.