Just opened in the Asian strip mall off 183 by a chef who trained at Michelin-starred L.A. sushi joint Urasawa, Ramen Tatsu-Ya serves the delicious version of the same stuff you claim got you through college, even though that 40lbs clearly came from chicken-fried steak nights at the Delt house. The space is marked both by the chef's heritage (a mural of the chef's family crest illuminated by rope-draped light fixtures) and shout-outs to his DJ side-gig, chiefly a bathroom heavily graffiti'd by the Blue Dozen, who actually don't get sad when they get baked. For the uninitiated, the tables are strewn with 101 guides laying out details of the tonkotsu broth (pork marrow simmered for 60hrs to a creamy consistency), translations for ingredients (aji-tama = soft boiled egg; ki-kurage = black wood ear mushroom), and best-eating practices like shamelessly slurping the broth to aerate the flavor. Aside from the traditional pork belly tonkotsu, they're also doing a soy-sauced version with roasted seaweed, and a miso variety with ground pork and Napa cabbage, plus small bites like pan-seared pork gyoza potstickers and the deep-fried Munchie Katsu Slider, which does include Japanese-style ground beef, and does not include Doritos, Cheetos, Sun Chips, or Rold Gold. In the coming months they'll be unveiling Tsukemen: dipping noodles served with a side of sauce, though not the same sauce that ensured you had no idea what you were eating at the Delt house.
Recommended Video
This Pizza Has Fried Chicken for Crust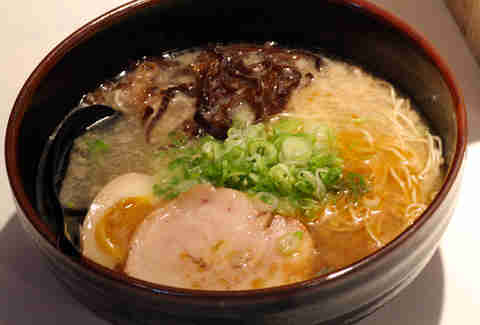 Previous Venue
Next Venue
Venue Description
1. Ramen Tatsu-Ya
8557 Research Blvd, Austin, TX 78758
Nothing compares to the lovingly simmered broth made at Ramen Tatsu-ya. The gang here has managed to create a cult classic with their menu. Try their signature bowl of ramen is a rich, complex, pork bone broth filled with thin noodles, tender chashu pork (soy braised pork belly), a marinated soft boiled egg, wood ear mushrooms, scallions, and your choice of add-ins. There is often a line but service moves lightning fast.