The most convenient burger in town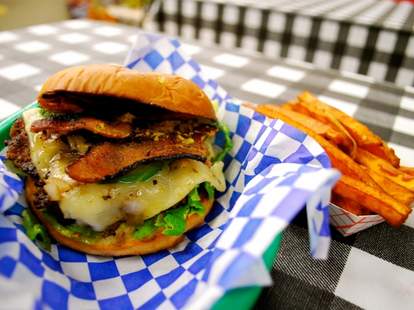 You never know where you might find buried treasure, though if you see Matthew McConaughey digging, be prepared to chloroform him as soon as his magic fingers touch Confederate and/or Spanish gold! For an unlikely place to find the meatiest of bounties, hit Wholly Cow.
Operated out of a tiny Star-Grill Food Mart by a trained opera singer from New Braunfels who helped start up San Antonio's Rudy's BBQ, Wholly pushes patties of grass-fed beef sourced directly from his family's farm in Fredericksburg, a small town that's nonetheless big enough to hold every man who actually asks to be called "Frederick". Served for takeout and at four spotted tables, the hormone-free Angus (abetted by equally organic seasonal produce) comes in the form of Pure Singles, Heavenly Doubles, or Mini Cherubs (sliders), with add-ons like bacon, candied jalapenos, roasted red peppers, or chili; other beefwiches include the thin-sliced Wholly Cheesesteak Batman and the Almighty Reuben, also a movie in which Morgan Freeman finally gives Old Testament powers to a Jew. Beyond bovine, there're squawkers like the Hellfire Cajun Chicken Salad and the pesto'd Grilled Chicken in Paradise, plus "Where's the Beef" numbers like the grilled four-cheese Golden Gates and the portobello-bunned grilled veggie number "Bella Bella Bella" -- which, thanks to past incidents with Italian men, will cause you to reflexively tell the menu, "Get your hand off my ass".
Although the convenience store currently just carries typical delicious-only-after-smoking-things fare, the owner is looking to transform it into more of an organic market, meaning a visit could yield so much treasure that, as with Sahara, you might be forced to ask Steve Zahn to help you carry it.