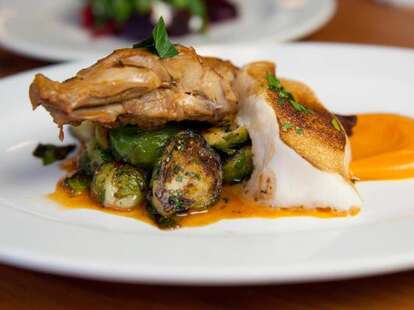 Making sacrifices for a principle can be risky, unless you can call time out and explain to the studio audience exactly why you've decided to pet sit during the Winter Dance for silly old Belding. Taking that risk even if it means losing Kelly to Slater for a couple of episodes out on certain ingredients, Local 360
Open in the former Flying Fish spot, this high-ceiling'd bi-level eatery from the guy behind The Croc combines contemporary (a wall of raw wood booths, concrete floors) with classic touches (silver candelabras), boasts a windowed pantry and a deli case with sandwiches, salads, etc. to go, and is planning to source at least 90 percent of all consumables from within 360 miles of Seattle, a goal that's required sacrifices like making do mostly with spirits from Washington, but not the Spirit Of Washington since that's just (a) Night Train.
Dinner options range from snacks (PB&J Bon Bons, Crispy Pig Ear), to small plates (Pork Belly & Beans), to mains like Mac & Cheese Risotto, and a potato/ baby carrot/ Cipollini short rib Pot Roast, also an event hosted by Chris Tucker at the Friars Club. The daily brunch menu includes breakfast (Malted Buttermilk Pancakes, Chicken Fried Steak & Eggs), and lunch options like a Roast Beef Dip sandwich, Chicken Pot Pie, as well as a Not Cobb Salad, which, if you remove the word Cobb, is a good way to start any meal
360's planning an official grand opening the first week of February to coincide with the opening of their adjacent Mercantile shop (including a butcher shop and a bakery) where people can score locally sourced produce, plus sweets and wine -- a combo that'll bring any diet to a Screeching halt.