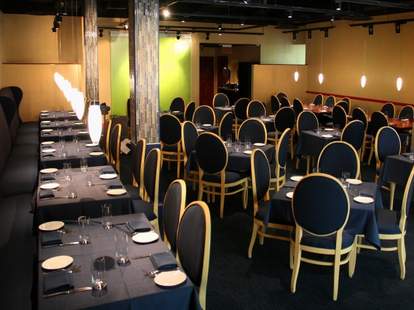 Most people will do anything to keep their childhood nicknames from getting out, except, of course, Big Baby, whose crib is now sweet enough to be featured on MTV. From a chef also taking pride (and hopefully profit) from his adolescent moniker: Newton's Table.
Serving farm-to-table eats amidst dual chef tables, crushed glass columns, and a 9ft waterfall, Newton's is named for the somewhat odd handle given its proprietor by his pops (...Newton, not Table), whom he's recently made proud by winning the "Mason Dixon Master Chef" award, which despite the title, doesn't just mean he's a good line cook. Fresh vittles include garlic & herb-roasted chicken with spoon bread and sauteed garlic spinach, a pan-seared sea bass with udon noodles, seaweed salad, and a veal demi-glace, and a local, grass-fed ground sirloin patty loaded with scallion-garlic aioli and dubbed "Newton's burger", presumably because it'll significantly increase gravity's exertion on you. For lightening up, they've got signature cocktails like the gin/ Laphroaig/ dry vermouth "Boardroom", the tequila/ lemonade "Salty Chihuahua", and a drink with sweet tea vodka/ limoncello/ lemon juice/ simple syrup called the "Drunken Palmer", who's gotten so bad that no matter where he is, he always needs a driver.
And should drinking spur an urge to re-nosh, they've also got small plates like nori-wrapped tempura ahi tuna, Wagyu beef wontons, and a molten cheese mash-up of Italian fontina and a goat from Cherry Glen, which actually would also have been a pretty legit nickname for a young Davis.