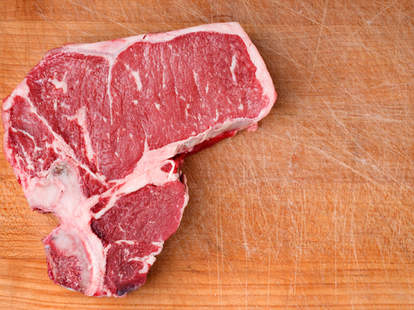 While full of great stuff, actually going to the farmers market can be like a visit to hell, as they're both hot, crowded, and full of people with pitchforks! Also, Korn is there. Get farmers market freshness without actually having to go to one, with Bon Vivant.
Basically an online farmers market, just-launched BV sources fresh edibles from Virginia farms before delivering them to the greater DC metro area with "the simple click of a mouse", so enjoy your Stouffers French Bread pizza, stupid touchpad users! The current catalog's got a heavy meat focus, with locally slaughtered, "lean, pasture-raised, grass-fed" beef available as everything from filets to rib eyes to porterhouses; or cop whole free-range chickens and even MSG-free sausages available in a garlic bratwurst, hot Italian, and "mini links", or where Verne Troyer adorably tries to play golf, God bless his teeny, struggling heart. Sticking to protein and fat, they've also got creaminess like cultured, farm-churned butter and raw or unpasteurized wildflower "runny" honey, as well as cheeses like a Marma Cheddar, Lusk Gouda, and a semi-soft Swiss McClure, which you may remember from such educational films as...
And for those looking to fill up the meat freezer, BV'll deliver the goods free of charge for orders north of $100, meaning just like a rock fan with a radio, you're a bit screwed if you're in the '90s.