FiDi's new every-meal watering hole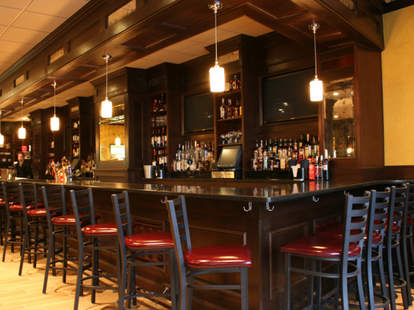 A sophomore endeavor from the folks behind Lower Mills' Ledge Kitchen & Drinks, this 90-seater specializing in "Burgers & Banter" slings cocktails, sammies, and comfort vittles in a former Brigham's, which has traded out Sweet Car-A-Mel ice cream for a sweet caramel wood bar, antique mirror glass, and red leather booths.
Foodwise, they've got hearty day-starters (toasted almond croissant French toast, chopped sirloin steak and eggs w/ griddle fries), and lunchables like the one with tiny pizzas and a Butterfinger horseradish mayo'd spicy roast beef w/ Swiss on brioche; a salsa verde, ground beef, and jalapeño-jacked flatbread dubbed the Buenos Aires; and a three-cheese melt called the Intern, because, sooner or later, you're going to get boozed up and crush it. Pop in for dinner, and they'll reward you with duck confit cassoulet w/ pork belly, heirloom beans & mirepoix; a honey-brined pork chop w/ broccolini, sweet potato torta & pear compote; and pimento rice & plantain w/ dry-rubbed jerk chicken breast that's been bricked, so try and act surprised when you see Jermaine O'Neal in there pre-game.
Whilst a 30-drink cocktail compendium is still in the hopper, quench your current after-work thirst via one of 12 drafts (Kona Fire Rock, Cisco's Sankaty Light), bottles like Samuel Smith Oatmeal Stout and oak-aged Innis & Gunn, or their fully stocked bar, if you're craving a headache that can't be satisfied by punny ice cream alone.