Marblehead icon comes to the North End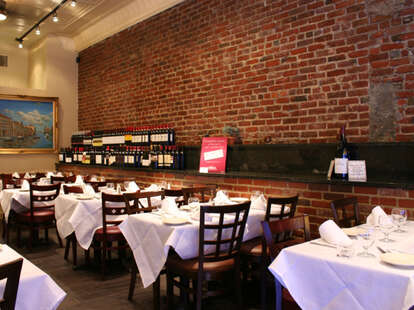 Twenty years after opening his renowned Marblehead eatery, the Naples-born, North End native has returned to the land of cannoli and cantankerous old men unabashedly eye-fondling your lady friends, with his first in-the-city outpost, slinging mostly Northern Italian faves in the former G'vanni's Ristorante space, which he's modestly outfitted with candlelit, white-clothed tables, and an exposed brick wall rocking a marble wine ledge.
Kick the evening off with options like a truffle-oiled porcini mushroom strudel filled w/ spinach, goat cheese & parm, pan-roasted sausage atop warm cranberry beans, or a roasted corn tagliatelle w/ sweet onions and crisp Italian bacon, who was just fantastic in A Few Bene Uomini. Signature entrees include their full rack of garlic-crusted lamb ribs laced with a chianti rosemary jus; Veal Amalfi rolled with prosciutto/ fontina/ mozzarella and finished with a shiitake/ porcini mushroom sauce; and a lemon/ pinot grigio-sauced, egg-battered Atlantic Hake, which, unlike Atlantic Hockey, isn't better live.
Though Billy Joel recommends a bottle of red and a bottle of white, you should probably ditch the white and get your high-end red vino on with award-winners like a 1999 Solaia Antinori cab (boasting a "massive concentration of fruit and tannins"), or a $750 bottle of 1964 Barolo Pio Cesare for that "once in a lifetime" experience, which most of the old dudes on Hanover Street describe as "the girl actually looking back".