Though Birds are already beloved by Alfred Hitchcock and cheeky English people who've drank too much medium-dry cider, they're about to be loved by you too, once you hit this three-floor costumed Halloween soiree that includes an "all fowl" dinner menu, which is different than the "all foul" one currently being hosted by Rasheed Wallace. Get Fed: You want lamb? Well, get the hell out of here, and let someone else enjoy the not-Larry bird smorgasbord of lasagna w/ pheasant bolognese, brace of quail w/ red quinoa, roasted squab w/ heirloom pumpkins, and canederli dumplings & truffled cippolini served alongside Guinea fowl. Get Scurred. Or, At Least, Entertained Not only will they be silently projecting The Birds on walls throughout the hotel, but DJs unfortunately not named Jazzy Jeff are spinning on three different floors while live aerial performers from Aerialicious do their high flying acrobatics inside the hotel. Get Quenched: They'll be shaking up signature 'tails like the Motive (vodka, aperol & St. Germain) and the Spider Bite (vodka, Godiva liqueur & pumpkin puree), plus a vodka & olive juice brine number finished w/ Tabasco & a Grillo's spicy pickle, dubbed the Hot Mess, aka Sheed after even the slightest altercation with Jack Nies.
Recommended Video
France's Fête des Lumières Is a Light Festival Unlike Anything You've Ever Seen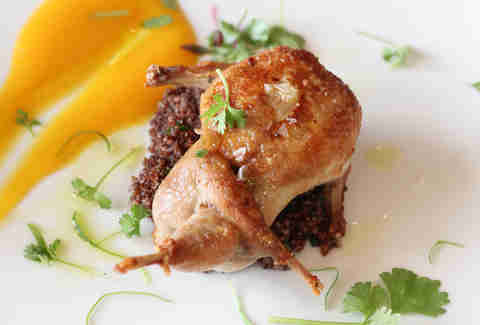 Previous Venue
Next Venue
Venue Description
1. The Liberty Hotel
215 Charles St, Boston, MA 02114
Built in 1851 (and run until 1990) as the Charles Street Jail, this massive granite- and brick-structure situated off the Charles River at the foot of Beacon Hill now boasts 298 guest rooms, an "I'm totally staying in a prison" historical vibe, and five different spots where you can dine and imbibe.