Meat and beer in Beacon Hill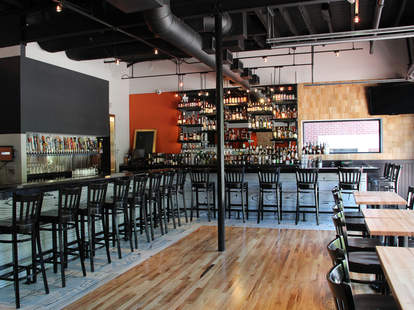 You're probably like, "Oh no, not another place where tap dancers perform for dollar bills and change!", but be cool -- this Tip Tap Room isn't hopping on that outdated trend. Instead, chef Brian Poe (Poe's Kitchen at the Rattlesnake) is cooking up "tips" to be enjoyed with beers off their "taps" menu, working from an open kitchen that overlooks a black ash bar and expansive dining room featuring black lacquered furniture, and three retractable glass, garage-style doors that'll be open during Summer months. The rundown:
Pre-Tip: First Mike Gorman and Tommy Heinsohn will probably ask Greg Dickerson to do some sideline reporting, but while that's happening munch on starters like Cheese & Cracklins (fried goat cheese balls w/ duck fat-fried prosciutto and carrot ginger dipping sauce) and "Potato" (bacon, beer cheese sauce, fried oysters, and pickled serrano pico).
Here's The Tip: Hold doors for old people. And eat everything done up steak tips-style from the more normal (sage peppercorn marinated turkey w/ cranberry fennel slaw, cornbread stuffing & creamed corn potatoes) to the more crazy, sexy, cool (garlic & red pepper-rubbed yak w/ fresh horseradish, shaved fennel & watercress/Meyer lemon slaw; wild boar & pork belly braised in beer w/ candied boar bacon bits)
Tap That: A Parish Cafe alum oversees the beverages, which are heavy on craft bourbons, and include 36 beers on tap, like Rapscallion Honey, Wormtown The Buk, Ipswich Oatmeal Stout, and Heavy Seas Loose Cannon -- also what you'll become if you take down too many and start doing your own performances for dollar bills and change.