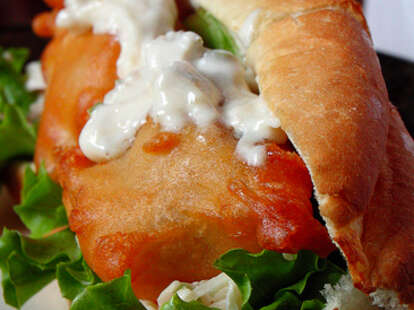 Fish are notoriously tough to get a bead on, what with the optical illusion created by the water, and the optical illusion created by the acid, leading you to still not realize that they're playing next weekend and you're just swaying alone in a field. Pinning them to a fixed spot: Brother Trucker's Go Fish!
Assuming its rightful place on the Christian Science Plaza after a couple of introductory weeks stranded at the Malden T stop, somehow still JNCO-free Go Fish! slings a legitimately gourmet lineup of restaurant-grade fruits de mer from a truck muraled with a colorful underwater scene, meaning that storage building on 93 with the octopuses just got cephal-pwned. Creative specialties involve a grilled lump crab salad sammie topped w/ Monterey Jack; blackened catfish w/ creamy summer grilled corn & bacon succotash; and the coup d'etat, chipotle aioli-slathered sliders with crisp smoked cod and chorizo under pickled onions, which'll appropriately prevent you from getting on base. There are also old Yankee standbys like their signature Famous Down East Clam Chowdah; "The Ultimate" fried haddock sandwich covered w/ a roasted red pepper tartar; and a "perfect" lobster roll plated alongside smoked onion crisps and "cool beans salad", aka what sadly optimistic vegetarians say pretty much every time their entree comes
If you're allergic to fish and/or Lent's just ended, they'll also delight your inner carnivore with a grilled chicken/lamb hoagie that was a specialty of Italian immigrants and is called a Spiedie, which's not to be confused with the pre-show toxic combo that'll put you out to pasture for a whole night.