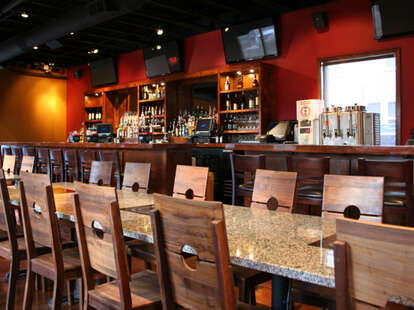 Sun Tzu said a lot of things, but he's perhaps most famous for the line, "Keep your friends close, and your parents' old restaurant closer, like maybe right across the street". Look, it's not a direct quote. Following that old philosophizing genius to his exact, possibly made-up word, the duo behind Van Shabu & Bar.
The husband/ wife team behind VS decided to open shop staring directly into the face of her parents' old spot, by overhauling the former Nash's Pub into a roomy 78-seat, cook-your-own-vittles/ neighborhood watering hole rocking a full bar, and serving Japanese hot pots with a little Vietnamese flair that wouldn't even meet the minimum required to work at Chotchkie's Hanoi. So as not to be startled when you get off the Red Line:
Digs: A long wooden bar outfitted with 18 single burners Marlo will inform the crew they have to ditch by the end of the week anchors a roomy track-lit space highlighted by a front lounge dotted w/ high tops, eight giant flatscreens, and a center row of granite-topped communals.
Sustenance: Kick it off with small plates like thinly sliced sauteed beef tongue, garlic fries, pan-fried shrimp dumplings in ponzu, and yakitori-dusted calamari/ scallop skewers before getting your hot pot on with 26 varieties of meat/ ocean eats including boneless short ribs, catfish, lamb loin, and fish & shrimp balls, which don't require a joke.
Libations: Draft suds like Sapporo find themselves alongside myriad sakes, red/ white vinos, and a full bar that's cranking out all your fave Japanese-y specialty 'tails & 'tinis like sake berry punch, and even a peachy bellini named the Ninja, for which you should follow Sun Tzu's advice when drinking one and "keep your friends as far away as humanly possible, and your enemies mad farther than that".