Cheap booze, champion eats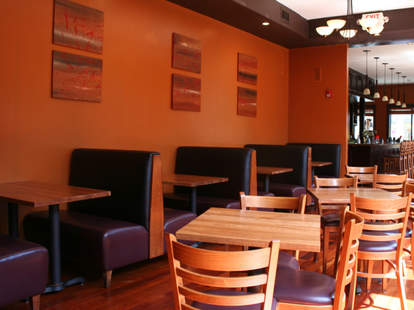 The restaurant industry can seem enamored with anything but Americana, what with the glut of ethnic eateries opening, and the industry-wide favoritism showed towards Smash. For American vittles that're pretty fly no matter what your ethnic background, hit up Redd's In Rozzie, now open.
The inaugural offering from a chef formerly at Coda & Harvest, RnR's a retro'd-out 80-seater slinging Southern-flair'd "great local Americana" in the sun-soaked, patio-abetted former Geoffrey's Cafe dressed with neon signage and walls painted "Hawaiian bronze", which Troy Polamalu could probably pick up in pretty much any event he wanted. To kick things off, they've got Dixie-style snacks like spicy chicken liver toast, pork rib niblets, crispy avocado w/ buttermilk dressing, and even sweet onion/ bacon ragout-accompanied hush puppies, not to be confused with hush money puppies, which're demanded by sweet old lady blackmailers. For heartier big boy fare, there's a Lex-style (vinegar-based, ah duh) pulled pork sandwich, grilled hanger steak w/ mashed & chard, a Parm-sprinked & red wine-braised shredded beef shoulder (served over fresh egg fettuccine), and grilled Arctic Char w/ stewed mustard greens, aged balsamic, and dirty rice, which'd actually prefer underaged balsamic.
To wash it all down, they've got a well-curated selection of artisanal wines, suds from $3 PBR drafts to Portland's garage-born Peeper Ale, craft cocktails like the bourbon/ Falernum Taylor Made, and a weekly rotating selection of punches, the perfect response to anyone who suggests "Pretty Fly" was a good song.